Casa del Capo, the smaller unit, consists of a single space with one double bed (Queen size mattress), one double sofa bed, the fully equipped kitchen, the dining table (4 seats) and one full bathroom; the private terrace is equipped with a second dining table and outdoor furniture. The view from the unit is magic; guests can see the sea either from the private terrace or from the indoor area.
Travelers can either reserve Casa del Capo or Casa del Capo 2.
Minimum staying 03 nights.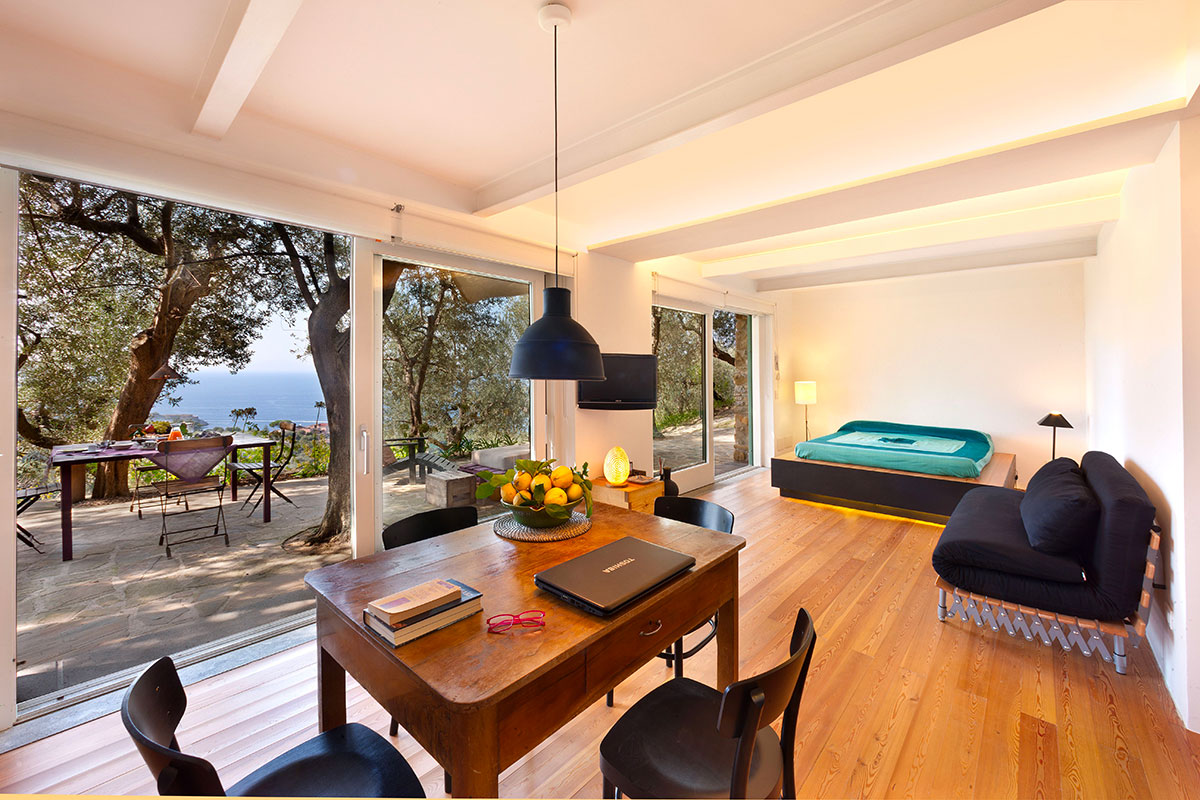 Easter – Christmas – New Year's eve
MINIMUM STAYING 03 NIGHTS
Timetable check-in and check-out

Check-in: 15:00 to 19:30.
Check-out: by 10:00 a.m.

Prices include VAT, cleaning on arrival, internet (WiFi).

The swimming pool will be open from June 01st until October 24th 2021.
Read our terms and conditions for more info on your booking!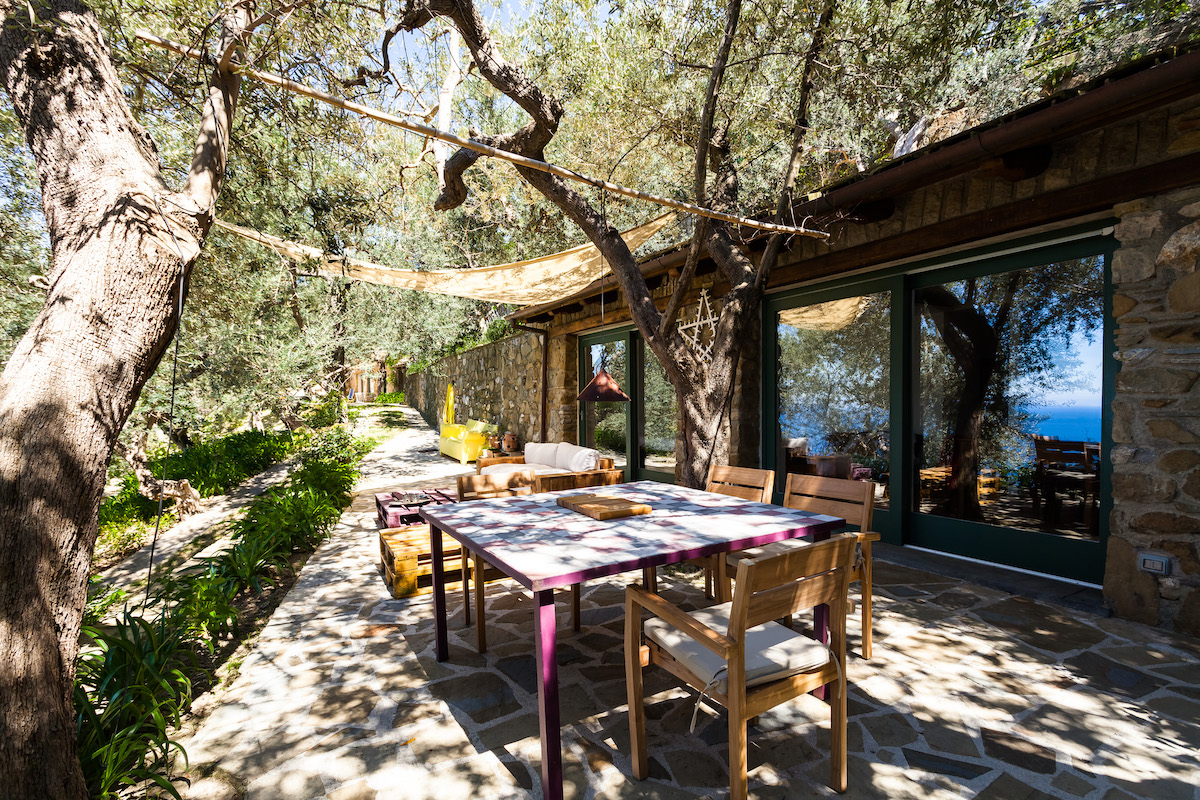 Surrounded by beauty
Aug 2016
Everything is right in this place . The apartment has everything you need, atmosphere , space and supplies. The garden has many beautiful
secret spots that you can only see when you look at it.
Mario is very friendly and helpful. Roberta and family have created a beautifull place that they like to share with others.
We thank them for that .We will definitely come back! ( for the guests of Casa del capo one , lots of fun at coloring )
Love,
Jaimy & Frank
Hervorragende Unterkunft mit spektakulärem Ausblick vom Garten
Uwe H.
Sehr freundliche Vermieterin, die bei der Ankunft am Sonntagnachmittag Wasser und Proviant für den ersten Tag in den Kühlschrank gepackt hatte.
Einfache, geschmackvolle Einrichtung. Besonders Terrasse und Garten sind sehr gelungen.
Tolle Aussicht auf die Bucht von Neapel.
The perfect escape from touristy hectics
Gerald K.
The apartment and the garden around it are a very fine and quiet little place to return to after having survived the touristy cities of Sorrento, Positano or Amalfi. The apartment is nicely done and fits perfectly for two persons. Garden and pool are artfully designed and create a homely atmosphere. The view is unbelievable, especially at sunset. We will definitely come back!
Great stay in May
Irme D.
We had a great stay in the smaller apartment. We enjoyed the beautiful garden and the warm hospitality of our landlady Roberta.
If you have the choice: decide for the smaller apartment. It's hidden in the very back and nobody has to pass your terrace on his way out, unlike the other flat.
And here is the better outdoor furniture and the better view on the bay.
The terrace of the bigger apartment gives almost no view, due to the olive trees. But of course there is a wonderful shade on hot days.
Eine wunderschöne Unterkunft in bezaubernder Umgebung
Marion F.
Super nette,freundliche Hauseigentümerin!
Sehr schönes Apartment, wunderbar gelegen
Thomas K.
Apartment war zwecksmäßig eingerichtet, eine Grundausstattung an Kaffee, Olivenöl, Salz, Pfeffer etc. war bereits vorhanden. Der Garten ist herrlich und der Blick auf das Meer einfach herrlich. Die Lage war für uns optimal, da nah an Sorrent. Man muss allerdings mit dem Bus fahren, zu Fuß wäre es zu weit bis in die Stadt.
Das Apartment ist im Souterrain des Hauses der Inhaber, die sich sehr freundlich um uns gekümmert haben. Eigener Zugang, eigener Stellplatz fürs Auto, eigene Terrasse mit Blick aufs Meer.
Uns hat es sehr gefallen, wir würden immer wiederkommen.
TK aus Kirchheim unter Teck
Lovely!
Aldona M.
We had a lovely week in Sorrento, the apartment was perfect, well equipped and comfortable. The pool was great, water warm and views – gorgeous! The pool is shared between the two apartments, but most of the time we were alone. Walking distance to a shop, bus stop, and a 40 min stroll to a lido and a lovely restaurant on the water edge. Recommended!
AMAZING
Laura M.
We have just returned from staying here for our honeymoon!! Well what can I say apart from wow!! This place was out of this world!!
So peaceful and tranquil yet only 10 minutes outside of Sorrento!!
We travelled with our 5 month old son and it couldn't of been any better!!
The apartment was outstanding and had everything you could need. The gardens were just exquisite and the swimming pool was a major bonus with a small baby!!
The little supermarket at the end of the street was a 5 minute walk away and sold the best cheese, meat and bread I have ever eaten!!
The whole holiday couldn't of been any better. I have recommended it to everyone I have spoken to and I know we will 100% be returning here!!
Just loved it all!!